Ystävämessu -Friendship Mass
su 15.12. kello 16.00 - su 15.12. kello 18.00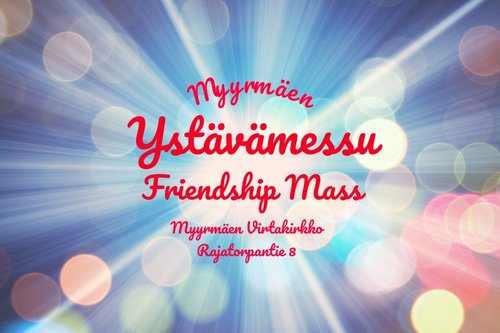 Ystävämessu on lämminhenkinen ja rukouskeskeinen jumalanpalvelus, jonka toteuttamiseen voit myös itse tulla mukaan. Voit käydä rukousalttarilla sytyttämässä kynttilän ja kirjoittamassa rukouspyynnön tai mennä siunattavaksi. Laulamme eri kielisi lauluja eri puolilta maailmaa. Messu on sekä suomen että englanninkielillä. Voit myös seurata messua englannin ja kiinan kielille diaesityksin. Ystävämessun jälkeen on teetarjoilu, lastenhoito järjestetty.
Friendship Mass for communion and for God to nurture our faith. Ystävämessu - Friendship Mass is a warm and prayer-centered church service for everyone who wants to participate or assist in the Mass. You can light a candle at one of the prayer altars, write your own prayer request, or receive a blessing from a pastor. We also sing songs from all over the world in different languages. The Mass is held in Finnish and will be translated to English and Chinese by dia slides. Tea is served after the Mass, childcare organized.
---
Järjestäjä
Kaikki seurakunnat
Pappi, kansainvälinen työ
Olen Mark Saba, pappina olen toiminut vuodesta 2001. Olen ihan tavallinen mies, vilkas ja huumorintajuinen. Tykkään urheilusta, varsinkin uimisesta, jalkapallosta ja lentopallosta. Olen kansainvälinen ja sosiaalinen ihminen. Arvostan ystävyydessä lojaalisuutta. Olen pitkäaikainen ystävä, eli ystävät ovat säilyneet jopa lapsesta saakka.
Olen lapsesta asti käynyt kirkossa. Kristillisyys on osa omaa identiteettiäni.
Olen kekseliäs ja pidän ruoanlaitoista. Kivointa on istua Välimeren rannalla ja nauttia kirja kädessä kuunnellen Välimeren ääniä. Talvella kivointa on istua kotisohvalla, kirja kädessä, katsoa telkkarista joko urheilua tai dekkaria. Tulevaisuuden toiveeni on tehdä maailmanympärysmatka.